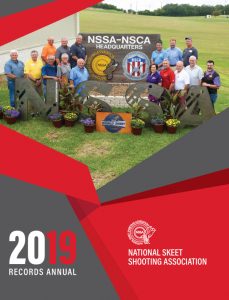 NSSA members have until September 1 to order a printed copy of the 2019 Records Annual (based on 2018 scores). The Records Annual is FREE to all Life Members, but you must send in a completed order form or email with your current mailing address requesting your copy by the deadline. All other non-life members may purchase a Records Annual for $10 by sending a completed order form along with the $10 by September 1. The $10 fee includes shipping.
All World Skeet Shoot attendees will be offered a complimentary copy at the event. Member clubs will also receive a complimentary copy mailed to the address we have on file. All NSSA members will receive a digital copy emailed to the email address we have on file.
A written request for the Records Annual must be submitted by all members who wish to receive one by September 1, 2019. Even if you requested one in previous years, you will not automatically be sent one this year. After the deadline has passed, the Records Annual may be available for purchase for $10, subject to availability. After the deadline, Life Members will also be charged the $10 fee for any copies purchased. Click to view the order form.  Please submit all completed order forms to NSSA Headquarters, Attn: Stephanie Haga, 5931 Roft Road, San Antonio, TX 78253 or email Stephanie at shaga@nssa-nsca.com. Requests for annuals will not be taken over the phone.