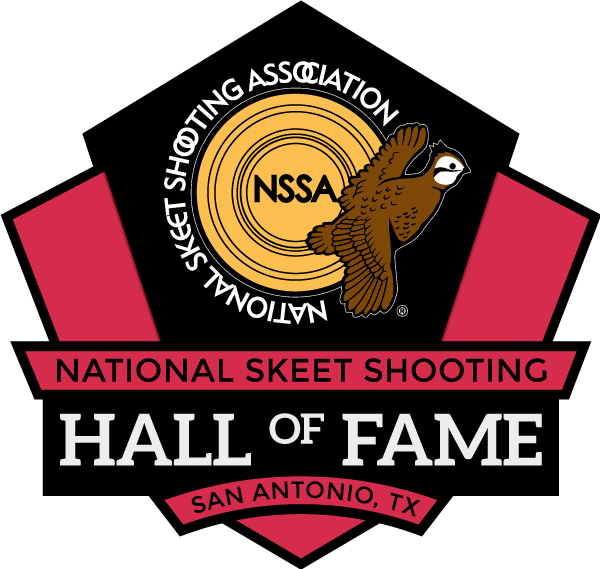 2018 NSSA Hall of Fall Inductees
Ray Boller Award: Robert DeFrancesco
Inductees: Helen Swetman & Billy D. Williams
Referee Honor Roll: John Cicora & Rayburn Rash
2018 Hall of Fame Induction Banquet
October 4, 2018
---
Qualification Criteria for Induction for Shooting Achievements
The individual must have been an active member of the NSSA for at least 10 years.
Exception to the above can be granted for those whose shooting was terminated due to death, terminal illness, or disability.
The individual must have been selected at least 6 times to an NSSA All-American Open First or Second Team and won at least one World Championship title; OR
Ladies must have been selected at least 6 times to the Ladies First or Second Team or All-American Open First or Second Team and have won at least one Open or Ladies World Championship title.
Meeting these minimum criteria does not guarantee that an individual will be selected. In all, a shooter must have established credentials, that when compared to the standard of his/her era and accomplishments of peers, would be considered outstanding.
Qualification Criteria for Induction for Sustaining Contributions
A Hall of Fame inductee based on Sustaining Contributions is the recipient of the Ray Boller Award. To be selected for this award, an individual must have been an active NSSA member for at least 10 years. Recognition is for significant and sustained contribution and dedication to the sport and NSSA at the National, Zone, and State level. (Shooting accomplishments are not taken into account for this prestigious award.)
Submission Procedures
The approved criteria and nominating procedure will be published annually in the November issue of Clay Target Nation, or found on the NSSA website. Submissions for the Ray Boller Award should be mailed to NSSA headquarters and may be submitted by anyone, using the Ray Boller Award Nomination Form (also available from Headquarters). The deadline for submissions to Headquarters is December 31, in order for the candidate to be considered for induction at the next ceremony. The Hall of Fame Committee will retain all Ray Boller Hall of Fame nominations and consider them from year to year. (It is not necessary to resubmit a nomination every year.)
Submissions for Shooting Proficiency are no longer required or requested, as all pertinent information is available to the Hall of Fame Committee in the NSSA archives.
NSSA will forward all Ray Boller Award submissions to the Hall of Fame Committee Chairman no later than March 15 for distribution to the Hall of Fame Committee members.
Hall of Fame Committee recommendations will be sent to NSSA Headquarters in due time in order to be included on the agenda for the Spring Executive Committee meeting.
The Hall of Fame Committee will forward at least the number of candidates shown below for each of the following categories:
Open Shooters (2)
Ladies Shooters (2)
Ray Boller Award candidates (2)
---
---
Voting Procedures by the Executive Committee
Upon receipt of the nominees' information from the Hall of Fame Committee chairman, NSSA will place the names on a written ballot in alphabetical order by group. The ballot will be distributed during either the Winter or Spring Meeting and nominees will be discussed prior to voting.
When counting votes, the nominee must have at least a majority vote of seven (7) Executive Committee members to be inducted into the Hall of Fame.
A maximum of three (3) nominees and one (1) Ray Boller Award recipient can be selected and inducted in any one year.