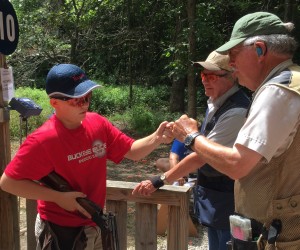 NSSA and NSCA are offering member clubs a free staff training course for the first 20 clubs that volunteer to host one of the associations' newest course offerings, the Club Range Safety Officer (CRSO) Certification Course. 
This one-time opportunity is being offered and fully funded by the NSSA and NSCA to promote the launch of the new Club Range Safety Officer Certification Course. The purpose of the new eight-hour $175 course is to train and certify club staff and volunteers to serve as referees and safety personnel and to serve as ambassadors for our sport when first-time shooters visit host clubs. These courses can be for sporting clays, skeet, or combo (which is encouraged).
To promote the new course and help member clubs enhance staff training, the association is waiving the $175 fee and funding up to 200 scholarships — 10 per club — to the first 20 qualified clubs to host and organize one of the inaugural courses. The course will be taught by active NSSA-NSCA Level II and Level III certified instructors, as approved by the Chief Instructor. 
To be eligible for this special offer, host a funded course, and offer the scholarships, a club must:
1) Complete and submit the simple one-page CRSO Launch Promo Host Application to Glynne Moseley.
2) Be selected / have application approved by NSSA-NSCA.
3) Recruit an absolute minimum of 10 CRSO candidates for the course.
4) Submit the names of the 10 candidates on the application form 21 days prior to the course date.
5) Work with the designated Level II or Level III certifying instructor on the logistics and support required for the course.
6) Provide up to 300 targets and ammo at no charge for use during the course.
The staff of NSSA-NSCA are excited to offer this new course and look forward to increasing the number of qualified referees and safety personnel at our member clubs.
If you have questions, contact Glynne Moseley at gmoseley@nssa-nsca.com, 210-688-3371, ext. 119 or Don Currie, NSCA Chief Instructor, at nsca@doncurrie.com, 407-697-6236.
Download the CRSO Launch Promo Host Application.