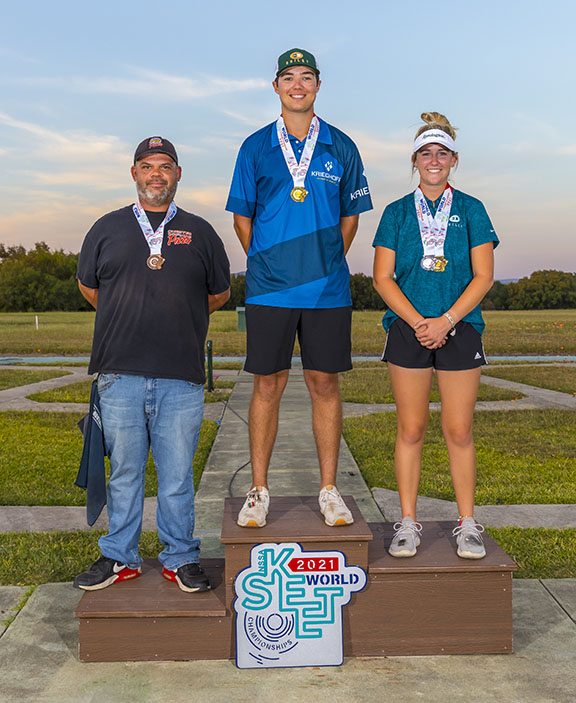 The NSSA congratulates Houston Deshotels, who won both HOA and HAA at the 2021 World Skeet Championships, held October 4-8 at the National Shooting Complex in San Antonio.
Deshotels was perfect going into Friday's .410 bore event, where he dropped only one target to finish the World Skeet Championships with a score of 449. Taylor Nicosia, who had dropped a target earlier in the week in the 28-gauge event, shot 100 straight in the .410 to tie Deshotels at 449 for HOA. Deshotels was the victor in the shoot-off, giving him his first HOA World Skeet Championship. He was also Triple-Sub Champion. Nicosia finished as HOA runner-up and Lady Champion. She also won Lady Champion in the Wayne Mayes Championship event, Lady runner-up in the 20-gauge and the .410, and Lady third in the 28-gauge and doubles.
Steven Wood, Cooper Oliver and Dessislav Ivanov battled it out in a shoot-off of 447s for the third spot on the HOA podium; Ivanov went out first and finished AAA1. Oliver went out next, finishing AA1, which left Wood as HOA third. Other class winners were Katie Hunt, A1; Tim Robinson, B1; Katie Lackey, C1; Michael Rykaczewski Sr., D1; and Steve Scales, E1. Katherine Adams was Lady runner-up, and Lauren Burge was Lady third.
With a score of 549, Deshotels was also HAA Champion, with Nicosia runner-up (547) and Ivanov third (546).
Also winning World Championships were Josh Poole, doubles and .410 bore; Robert Hicklin, 12-gauge; Michael Schmidt, 20-gauge; and Ryan Smithart, 28-gauge.
The previous weekend, at the Mini World, HOA winners included Alessandro Vitale, champion; Mike Woolard, runner-up; and Riley Chaddock, third. Vitale was also HAA Champion. Taylor Nicosia won doubles, Edward Smith won the 12-gauge, Michael Rykaczewski Jr. won the 20-gauge, and Josh Poole won the .410 bore. Wayne Mayes Championship winners were Ivanov, champion; Paul Newman, runner-up; and Nicosia, third.