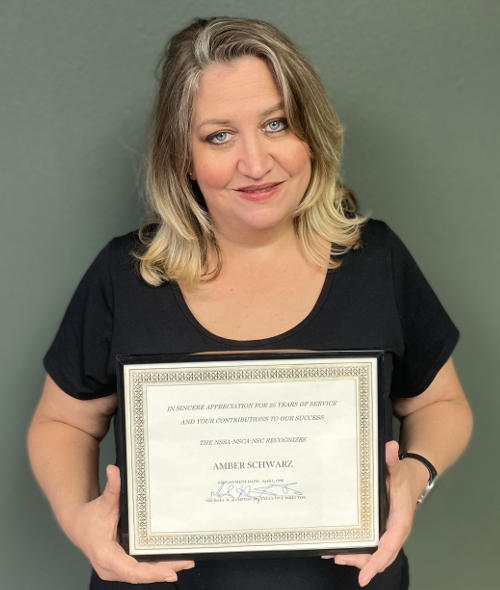 Amber Schwarz, NSSA-NSCA Director of Member and Club Services, celebrated her 25th anniversary with NSSA-NSCA on April 26. Amber started helping with shoots at the National Shooting Complex in 1996 and became a full-time employee in 1998.
Amber is known as a go-to person at the office who can figure out the answer to any problem, as there are few jobs there she hasn't done, or practices and policies she hasn't helped implement. "I've worked from one end of the office to the other," said Amber, "doing anything and everything I could learn to get the job done." She spent many years as Assistant Director of the National Shooting Complex, assisting with corporate, charity, and registered shoots, event personnel, marketing of the complex, and many other functions associated with NSC management.
In 2020, Amber was promoted to Director of Member and Club Services, managing the staff and practices involved with Headquarters' most important function — taking care of its members and member clubs.
"Amber's work ethic and desire to do a great job in everything she does is what makes her special and an incredible team leader here at Headquarters," said Michael Hampton, Jr., NSSA-NSCA Executive Director. "No matter if its 6 a.m. or 10 p.m., she has a smile on her face and is doing whatever it takes to get the job done and is ready to do it all over again the next day."
On behalf of the staff, membership, and governing bodies of NSSA-NSCA, we congratulate Amber on her 25th anniversary and offer our appreciation for her many contributions to our success.