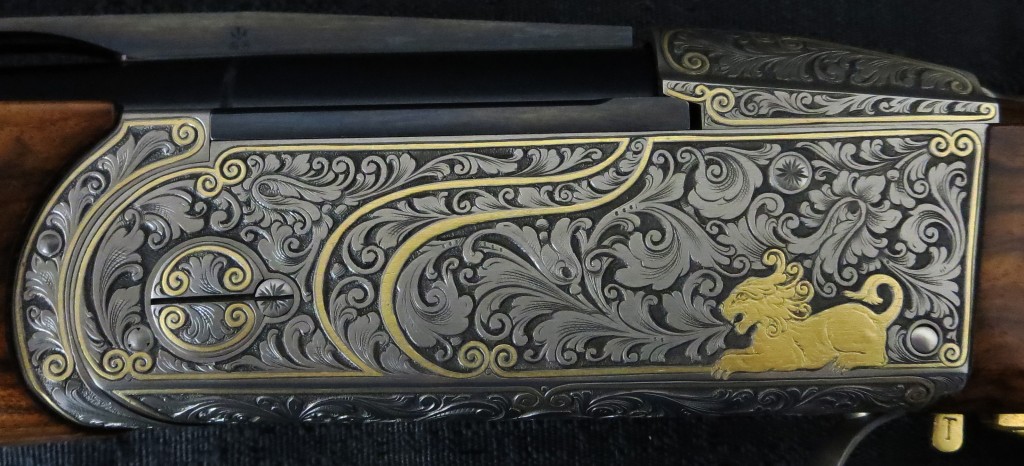 Two years ago, NSSA member Charles Gates died, leaving a wonderful legacy gift in his estate. Unbeknownst to either organization at the time, Mr. Gates had structured his estate to donate his prized Krieghoff shotgun collection to be sold and the proceeds to support the youth shooting initiatives of both the NSSA and the Scholastic Shooting Sports Foundation (SSSF). While his estate benefited from the tax advantages of planned giving, his thoughtfulness also enabled him to further his passion to support youth shooting long after his passing.
One gun from Mr. Gates' 10-gun collection now remains to be sold. This is a highly engraved K-20 Majestic Grade, Serial #001149, with gold lions, engraved by renowned Krieghoff engraver Kathrin Nonn. It is a 20 gauge with 30″ barrels, a #5 skeet stock and Schnabel forearm. The selling price is $40,000 and this beautiful gun can be viewed during the upcoming World Skeet Championships and National Sporting Clays Championship in the Alamo Sporting Arms showroom at the National Shooting Complex in San Antonio. You can also view the gun details on the Alamo Sporting Arms website at www.alamosportingarms.com.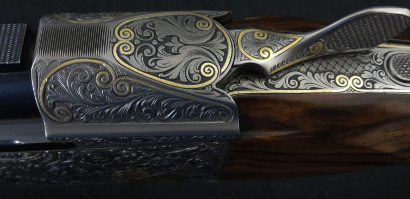 Questions about this K-20 maybe be directed to Pam Young at Alamo Sporting Arms at pam@alamosportingarms.com.
Louise Terry, Past President of NSSA and currently serving as Board Chairman of SSSF, comments, "This is a unique chance to own a special masterpiece while supporting the youth shooting programs of both the NSSA and SSSF's Scholastic Clay Target Program. Both NSSA and SSSF are focused on teaching our young adults the attributes of good fellowship, good sportsmanship, and firearm safety through our shotgun sports while reinforcing strong American family values. It also is a wonderful example of the power of planned giving, which can benefit your personal estate as well as charitable 501(c)(3) organizations like NSSA and SSSF. Thank you for helping us introduce and encourage many young adults who otherwise would not have a chance to know and enjoy the shooting sports we love."