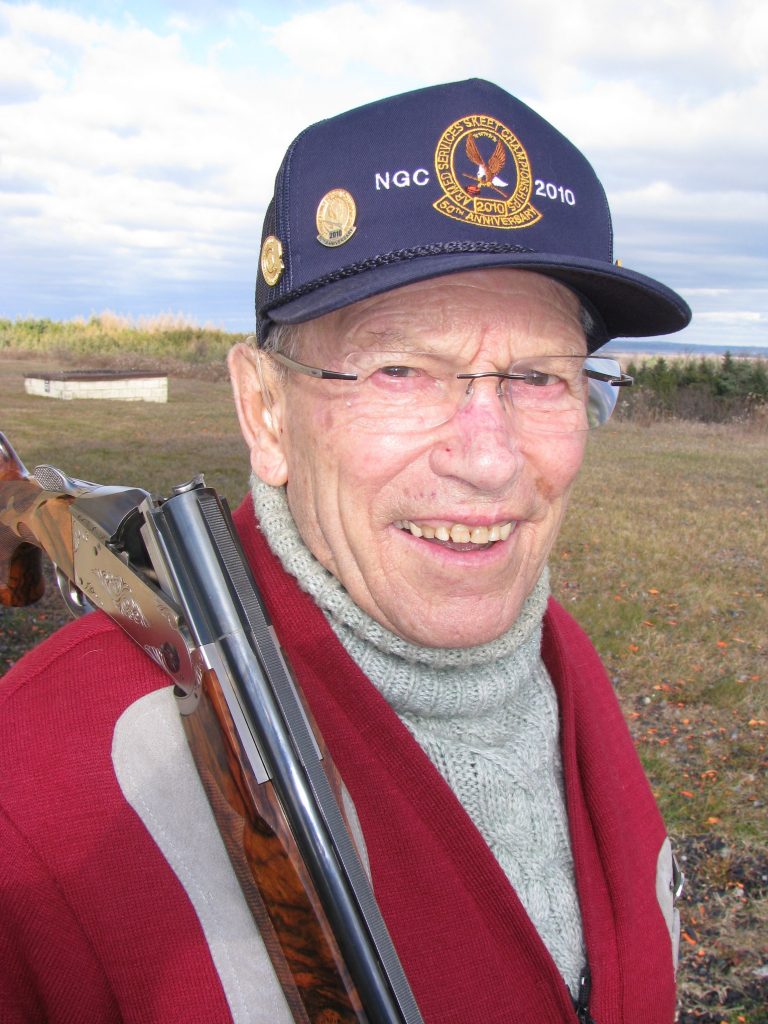 NSSA regrets to report that Hall of Famer Doug Burdett lost a courageous battle against cancer on June 13, 2019.
Doug is survived by his wife of 61 years, Margaret Burdett, his shooting companion of many years and husband/wife team partner, with whom he won many titles. Both were inducted into the NSSA Hall of Fame.
Doug was a Master Warrant Officer in the Canadian Air Force and spent many tours in Germany during the cold war years with Margaret, who was also Air Force personnel.
During his shooting career, Doug shot skeet in Europe, the United States, and Canada, attaining many accomplishments, including winning many titles at the World Skeet Championships: six HOA World Championships, ten 12-gauge, five 20-gauge, two 28-gauge, and six .410 titles spread over Open, Military and Husband/Wife categories.  Doug and Margaret were inducted into the NSSA Hall of Fame in 1981 as the first couple to be inducted at the same time. He was a member of the All-American Military First Team in 1969 and held a place on the team until 1980, when he retired and was captain of the Military Team in 1974, 1975, 1978, and Co-Captain in 1977 and 1981. He was also a member of the All-American Open Second Team in 1972 and 1973 and won many European Open Championships while posted overseas in the 1970s.
Doug was inducted into the Armed Forces Skeet Association Hall of Fame in 2011, being the only non-American to be inducted. He was also inducted into the Canadian Armed Forces Hall of Fame in 1976 and the Canadian Skeet Shooting Hall of Fame.
Doug was very humble regarding his accomplishments, but he was a key player in Canadian/NSSA skeet shooting over the years. As well as being a winner, he was also an expert stock builder and gunsmith. Doug was always there to offer great advice on improving other shooters' scores and helping with the mental game of skeet.
Doug had a large circle of friends both in the NSSA, OSSA, and Oshawa Skeet and Gun Club and will be missed by many.
– Contributed by Don Yaraskavitch