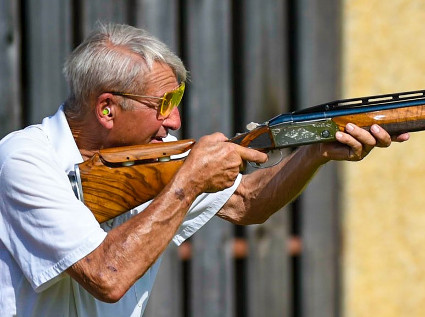 D. G. "Skeet" Hier of Lincoln, Nebraska, passed away March 2, 2019 at the age of 72.  He was a U.S. Navy veteran, serving on the U.S.S. Ticonderoga aircraft carrier.  Skeet was an avid hunter and skeet shooter.  He won numerous local, state, and national skeet shooting awards and was inducted into the Nebraska Skeet Shooting Hall of Fame in 2003.  Skeet also served as a state director for the National Skeet Shooting Association for many years.
He participated in 17 world shoots, which he thoroughly enjoyed (he possibly liked the card games as much as the shooting!).  Skeet was a longtime member and director of the Lincoln Trap and Skeet Club and lifetime member of the National Skeet Shooting Association where he amassed almost 200,000 lifetime registered targets.
Skeet will be remembered, among many things, for his dedication and devotion to promoting the shooting sports.  Skeet's incredible work ethic didn't wane in the least after his retirement in 2014; he spent countless hours at the Lincoln Trap and Skeet Club where he gave new meaning to the term "volunteering."  He was extremely computer savvy and had every answer to any registered skeet shooting question after running shoots for so many years.
Skeet is survived by his loving family, including wife Jill, daughters Stephanie (Scott) and Nicole (Brian), and son Brian (Lindsay), grandchildren Kennedi, Hunter, Caleb, Kylie and Jaxson, and countless friends in the shooting community.  Skeet shooting in Nebraska will certainly not be the same without Skeet Hier.
– Contributed by Chris Lutz