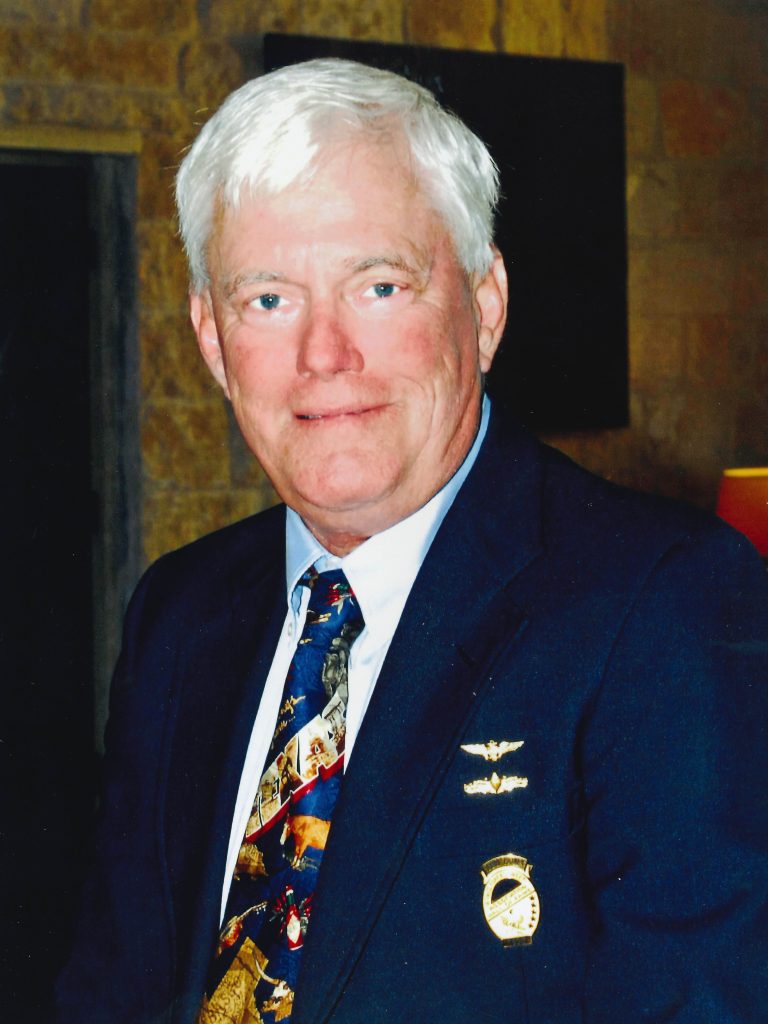 We are sorry to report the loss of a great skeet shooter, coach, and friend, Jamie Gaines.
Born December 8, 1948, in Louisville, Kentucky, Jamie was raised in the Bluegrass Region of the state. He attended parochial grade school and high school in Frankfort. In 1970, Jamie graduated from the University of Kentucky College of Agriculture. He applied for and was accepted into Naval Flight Training in 1971. He was commissioned an Ensign and later received his wings after completing flight training in 1972. Jamie's first assignment was to Helicopter Combat Support Squadron 6 in Norfolk, VA.
In 1978, Jamie met Florida Highway Patrolman C.C. "Dusty" Rhodes and was introduced to the game of skeet, and as they say, the rest is history. Upon return from sea duty, Jamie secured a shore duty assignment at the Armed Forces Staff College. During his stay at the AFSC, he met and married Major Lorraine Shelton, USAF. During this time, he went to many skeet shoots in the Virginia and Maryland area with SMSgt. Al Talacek. Jamie also took on the role of Captain of the Navy Skeet Team, working to get funding and ammunition. He was able to get the Navy Skeet Team included in the Navy budget and secure funding and ammunition for years to come.
Jamie teamed up with Luke Deshotels and ventured to skeet shoots in New York, Connecticut, and Massachusetts, in addition to those in Maryland and Virginia. Following his retirement from the Navy, skeet took Jamie's full attention. He and Lorraine moved several times, but in each location he found a partner to shoot with at major shoots. In 1991, it was Mississippi where he teamed up with Gabby Hulgan, attending many shoots in Florida, Mississippi, and Texas. In 1995, it was back to Maryland, where he shot with Wayne Mayes. In 1999, Jamie and Lorraine moved to Helotes, Texas and Jamie learned he was in "skeet heaven." After arrival in Texas, Jamie shot at many Texas shoots but also traveled extensively to major shoots throughout the country. Some of Jamie's Texas skeet buddies included Rocky Goodman, Wayne Mayes, Mark Myers, and Van Boerner.
On May 9, 2003, Jamie lost his left hand in a construction accident. As Jamie put it, "It was a perfectly good excuse to quit skeet." This did not stop him, though, because within a month, he was back shooting skeet with Wayne coaching him, and he even shot a 100 at his first shoot after the accident.
Some highlights of his skeet career include:
2012: Induction into the NSSA Hall of Fame
Selection to eight Open First or Second All-American Teams
1992: Won Mini and World .410 titles
1993: Won the Mini .410 again.
Shot five 400x400s, including the only one ever shot at East Alton
Inducted into the Armed Forces Hall of Fame for shooting proficiency, as well as earning the K.E. Pletcher Award.
June 2012: Inducted into the Texas Skeet Shooting Hall of Fame
28-gauge long-run record (1487) until broken by Stuart Fairbanks
World 2-man team Military Civilian HOA record (1097) with Gabby Hulgan.
Jamie will be sorely missed by all who knew him.